My number one new year's resolution this year was to make it to at least one hack-a-thon. After last weekend I am glad to finally have fulfilled this dream by attending the second annual ATX Diversity Hack-a-thon and boy am I glad that I did!
Participating in the hack-a-thon was a great experience that I would recommend to anybody with a creative spirit who wants to be a part of creating something new. I learned so many things that I never could have imagined I was going to and was also able to practice my design skills, applying them to solving a real issue in the world.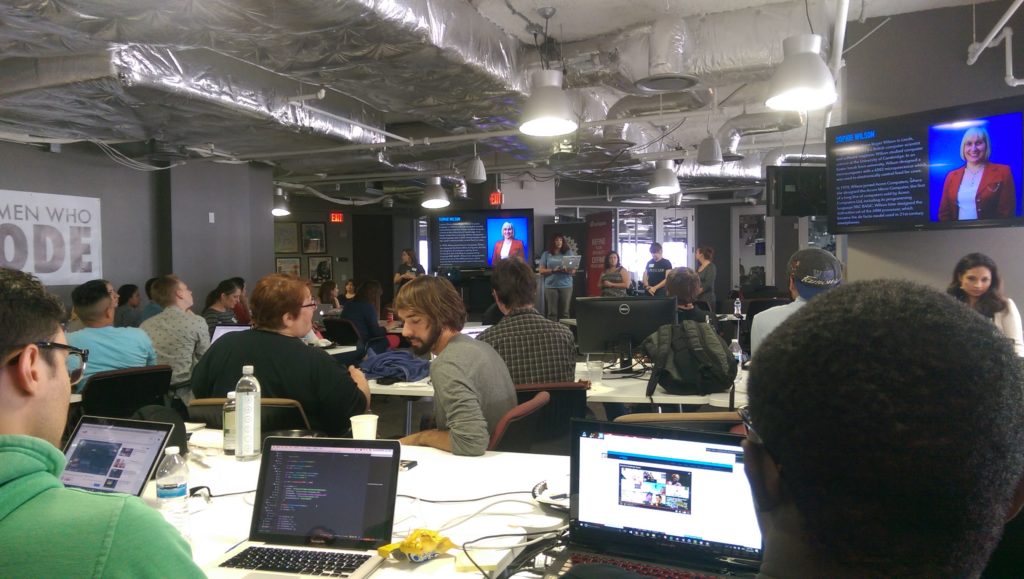 Eager as I was to attend my first hack-a-thon, I arrived very early. So early in fact that the elevator to the floor where the event was taking place was still locked. It did not take long before another hacker arrived and was also thwarted by the pesky elevators. We struck up a conversation and I was filled in about the prior evening's activities. After hearing the project proposal that his group was working on, I was immediately on board with the idea and asked if I could join their group. I was kindly accepted into the group.
The problem our group set out to solve was one found within queer and transgender communities. Queer and transgender individuals are subjected to various issues that have a significant impact on their living situations such as violence against them and certain social stigmas. We set out to find a way to alleviate these problems so that they would be able to find safe and comfortable living situations.
The hack-a-thon kicked off with breakfast and then the teams were off to the races. Throughout the day speakers and workshops were going on in a separate room so  I actually started the day by attending the IBM Design Thinking workshop but only made it through the first exercise before being whisked off to start hacking.
We started with some good old fashioned research in order to understand our users better. First, we took a look at the ways LGBTQ people currently find housing. The as a group we discussed what assumptions we had about the situations and sought to validate these assumptions by comparing them to the real data. We started to see some patterns in the type of posts people used on the housing groups. Many of the people were trying to escape violence, most of them valued their identities by starting their posts by identifying who they were and certain other personal preferences were also noted.
Once we had a rough idea of who our potential home seeker and home provider might be, we did an empathy mapping exercise to gain a deeper understanding of their feelings and motivations. From these exercises we were able to create personas of each of our users. With a better idea of who our users were we created a storyboard to identify pain points in the house finding experience.
From here we broke off from group activities and were able to create an overarching user flow and start laying the framework of the backend and frontend code. I'm not going to pretend I know the intricacies of what our coding gurus were able to set up but myself and the other designer were able to start wireframing and visualizing each page at this point.
As the clock winded down, we put our final finishing touches into our product, hastily created a logo and ultimately summarized it all into a presentation to be submittal to the judges. After narrowly getting our presentation in working order we submitted in the final possible minutes.
Excitedly we watched as the other teams present their projects. It was really cool to see what everyone had collectively been able to come up with and I really enjoyed how everyone took such different approaches to vastly different problems. Finally after we presented and all the other teams completed theirs, we nervously waited for the judges to decide the winners.
There were four categories that teams could win. UX/UI, Technical Stack, Social Impact, and Overcoming Obstacles. The announcement for the Mark Dean best UX Design was first and we collectively held our breath… WE WON! I was ecstatic! We rushed up to the stage to take a team photo and receive our prize. All the bragging rights and a surprise cash prize, which was not a bad touch at all, were ours!
All in all I had a great time at my first hack-a-thon. Although at times it felt a bit grueling and exhausting as we worked non-stop for 15 hours, I have to say it was definitely worth it to be able to learn so much, execute on and contribute to a great idea and meet some great, very intelligent people. A big thanks to The Women Who Code, all of the sponsors and volunteers for helping to put this on. I will keep my eyes peeled because I am looking forward towards the next one!